Kindergarten EFI Bucharest
Our kindergarten accommodates children from age 2 (Prekindergarten – TPS) to 5 years old (Kindergarten Year 3 – GS), a particularly critical period in their progression and development. For many young pupils, kindergarten is their first opportunity to interact within a larger group of children and to have new experiences.
In addition to French, our first language, EFI Bucharest has chosen to teach English and Romanian classes from kindergarten onwards, because this is the ideal age for young children to pick up languages quickly. Our kindergarten pupils thus progress in a stimulating multilingual environment where the teachers, who are all native speakers, offer individual care and support.
Organisation of kindergarten
Organisation of kindergarten teaching and timetables
Prekindergarten (TPS): 2 years old
Kindergarten Year 1 (PS): 3 years old
Kindergarten Year 2 (MS): 4 years old
Kindergarten Year 3 (GS): 5 years old
Organisation of the weekly and daily timetable
Classes are divided into 9 half-days per week:
4 full days: Monday, Tuesday, Thursday and Friday
1 half-day: Wednesday
For all levels, classes start at 8:30am and finish at 4pm.
Morning classes for pupils in kindergarten end at 11:50am, followed by a one and a half hour lunch break. 
Throughout the day, there are two break periods organised at slightly different times to those for primary students. Kindergarten pupils have their own play area.
Kindergarten educational objectives and the teaching vision of EFI Bucharest
The main objective of kindergarten is to give pupils the desire to learn, to become autonomous and to assert their personality. The aim is to develop their self-confidence in terms of their capacity to learn and succeed at school.
Kindergarten helps children learn to interact and communicate with other pupils. As part of this process, particular emphasis is placed on the development of their social, emotional and motor skills: respect for rules, self-confidence, concentration, fine and gross motor skills etc.
French kindergarten programmes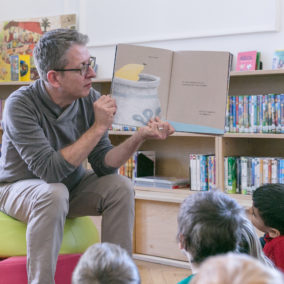 Pupils develop
their linguistic skills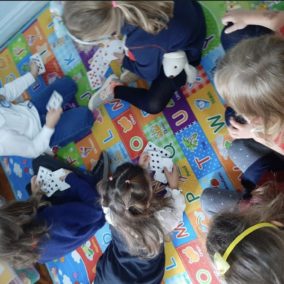 They are introduced to
writing through drawing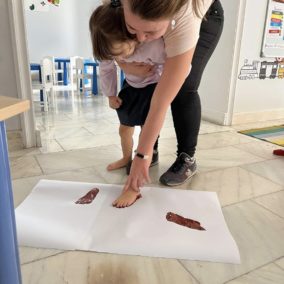 They develop
motor skills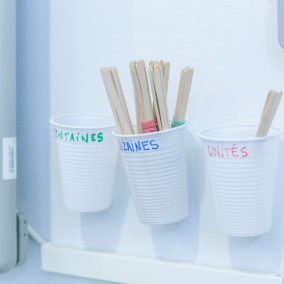 They learn
basic maths (counting and problem solving)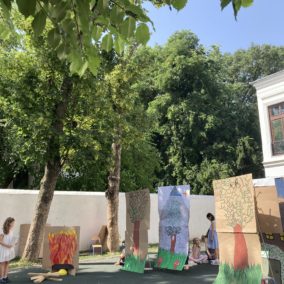 They become
interested in the world around them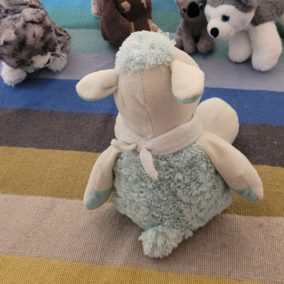 They develop
their imagination and creativity
teaching model
It is in this spirit that EFI Bucharest has developed its teaching model, where learning is based on fun and interactive sessions (games, songs, handling objects, performances, visiting museums etc.). Furthermore, our teaching methods focus on encouraging pupils through positive and constructive feedback. After three years, pupils acquire a solid foundation which will help them to further develop their skills in primary school.
Language teaching in kindergarten
In addition to French, which is our first language, EFI Bucharest has chosen to teach English and Romanian from prekindergarten age (TPS).
Young children can hear the entire range of sound frequencies, (which vary considerably between languages) but from the age of 7 or 8, they gradually start to lose this ability. Moreover, children also tend to be less inhibited and more spontaneous. Following a period of adjustment, they are less fearful of making mistakes, which is a major asset in language learning. After a few months, they gain confidence and start to enjoy the lessons, two key factors in learning.
Kindergarten children follow a teaching programme where teachers quickly familiarise them with the school's different languages and help them improve their comprehension and speaking skills throughout the year.
Weekly teaching of English and Romanian in kindergarten
Prekindergarten (TPS), Kindergarten Year 1 (PS), Kindergarten Year 2 (MS) and Kindergarten Year 3 (GS) :
English: 4.5 hours + 1 hour of co-teaching

Romanian: 2 hours
Teaching priority is given to the French language. Over half of our classes are taught in French, which is our language of instruction and the main language spoken throughout our school. Students are assessed primarily on this language, which forms the basis of the academic programme in primary and high school.
About 20% of the total curriculum is taught in English.
As our kindergarten pupils are so young, their level of ability is not assessed in our English language classes. Our teachers are used to adapting their teaching methods to manage potential differences in ability levels and to help all our pupils progress.
As the language of our host country and a language of culture with Latin origins, Romanian is an essential language for our school. All our students (regardless of their nationality or native language) must learn Romanian. It is taught for 2 hours per week.
From year 3 of kindergarten (age 5) onwards, our pupils begin a more intensive programme, which prepares them for learning how to read and write in French. In order to give each of our students the best possible chance of success, those who do not have a sufficient level of French are offered a place on the Portal programme, a specific French language learning programme set up within the school. This programme involves more intensive teaching of French as the Language of Instruction (FLSco), in small groups, so that pupils develop the autonomy required to learn in a regular classroom.